Help support the arts and earn great discounts by becoming a member!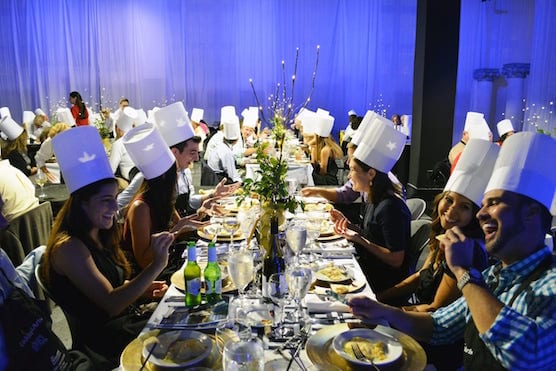 Saturday, November 4th 2024
6:00pm Cocktails | 7:00pm Dinner
$250 per couple | $1000 for a table of 8
After October 16th:
$275 per couple | $1100 for a table of 8
Call Box Office for more information
239-333-1933
Scroll down for more information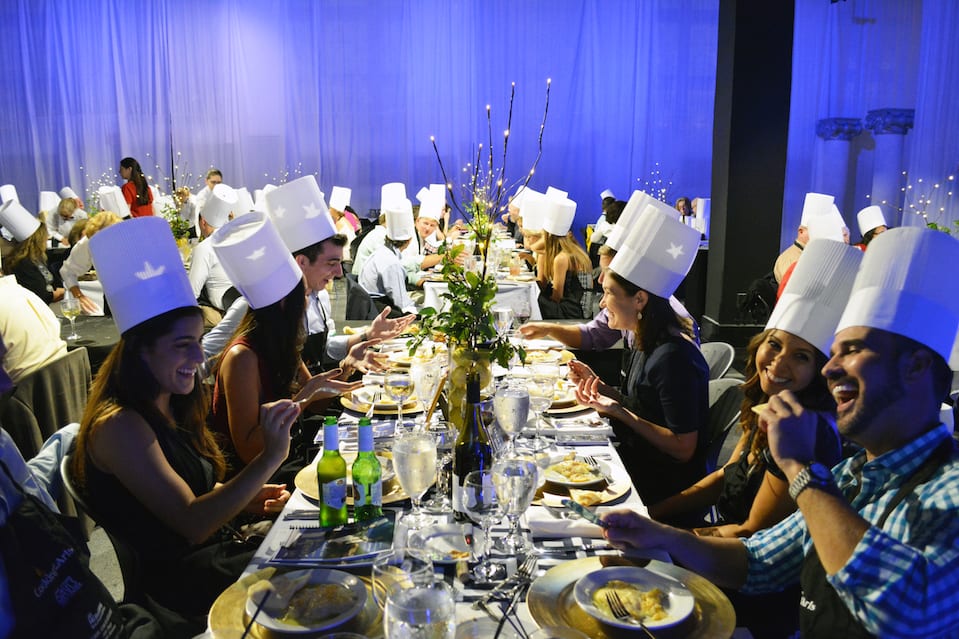 Stirring up the Fun
Everyone's favorite interactive dining experience is back for an evening of exquisite food and drinks while supporting the arts! Don't miss this annual fundraiser benefiting SBDAC's education programming.
This fundraiser features the best in food, friends, and wine while supporting the arts. Cook your way through a four course dinner while taking part in live and silent auctions. Stir up some fun with friends and family at Cooking for the Arts! Cooking for the Arts invites guests to prepare their own five-star meal. Follow along with the chef as you and your guests take turns cooking a four-course meal.
*Cannot accommodate food allergies
Featuring Chef Don Splain
Chef Don Splain began his culinary exploration in the heart of Lancaster, Pennsylvania. Here, he developed a passion for how different cultures influence culinary arts and became enamored with the diverse palette of local ingredients. Eager to expand his horizons, Chef Don ventured across the United States to delve into regional culinary styles, aiming to incorporate these unique methods and ingredients to elevate the dining experience for his guests.
After completing his education at the Culinary Institute of America in Hyde Park, New York, Chef Don ventured abroad to explore Europe's rich culinary traditions. He staged in the esteemed kitchens of chefs such as Adolfo Muñoz and Martin Berasategui, among others, throughout Spain and Italy.
At the core of Chef Don Splain's culinary philosophy is a commitment to the 'Art of Possible Cuisine.' He views each dish as a marriage of history, culture, and geography, carefully crafted to stimulate the senses and educate the palate. Through a relentless pursuit of culinary excellence, Chef Don employs a 'farm-to-fork' approach, emphasizing locally sourced and seasonally available ingredients. This philosophical underpinning sets him apart, transforming each dining experience into an intimate voyage through the world's rich tapestry of culinary traditions.
Chef Don Splain gained widespread recognition for his pre-COVID-19 restaurant, The Founders. This establishment emphasized local ingredients in made-from-scratch dishes that caught the attention of the James Beard Foundation and Bon Appétit Magazine. The Founders was in the running for 'Top 10 New Restaurants in the US' before it was unfortunately forced to close its doors.
Currently, Chef Don Splain focuses his culinary expertise on private dining events and in-home cooking classes, a venture featured in Gulfshore Life Magazine. These classes range from mastering basic knife skills to exploring advanced culinary techniques, offering an educational experience bounded only by a student's imagination. In addition to these services, he consults with restaurants to build robust relationships with local and international growers and producers.
Chef Don Splain is often seen collaborating in culinary endeavors with his wife, Sarah, and their three daughters; the family affair brings a unique warmth to his approach. Echo, a chef carving her own path in the Culinary world, contributes her own inventive flair. Saffron, the family's Logistician, ensures that everything runs like a well-oiled machine, while Keziah, an emerging talent in pastries and protocol, adds a touch of sweetness and formality. Together, they form not just a family but a cohesive culinary tapestry, amplifying Chef Don Splain's philosophy that cooking and hospitality are more than a craft; it's a familial bond that nourishes the soul as much as it does the body.
Looking ahead, Chef Don Splain is looking to open an exciting new chapter. With a vision to create a dining establishment that genuinely reflects his eclectic approach and culinary philosophy, he actively seeks like-minded individuals and partners for collaboration.
The planned restaurant aims to be an experiential journey beyond merely satisfying the appetite but also delighting the soul. This venture will not only offer exquisite cuisine made from the freshest local and international ingredients. Still, it will also serve as a sanctuary where culinary arts, friends, family, and community spirit coalesce. Through this endeavor, Chef Don Splain extends an open invitation to those who share his vision and passion for a gastronomic experience that transcends the ordinary."