What is Suzuki Music Method?
Suzuki is a method of teaching music fluency and appreciation based on the principles of early language acquisition, created by Japanese violinist Shinichi Suzuki. The ideas of parent responsibility, loving encouragement, constant repetition, learning instrument technique before note-reading (much as we learn to speak before we learn to read), and reinforced learning in group settings are some of the special features of the Suzuki approach.
What ages are ideal to begin lessons?
Ms. Griffith teaches students as young as 4 or 5 depending on physical and mental maturity, all the way up to adult learners. K- 3rd grade is probably easiest time to begin.
Will I learn to read music also?
One of the strengths of using the Suzuki Method of music instruction is learning to produce a beautiful tone and to use proper technique to play the instrument first, much like we learn to speak our language(s) fluently before we learn to read.  Music reading instruction is gradually added into the lessons as the student becomes ready.
How often will I or my child need to practice?
Learning to play any instrument requires much diligence and repetition, so practicing as close to every day as possible will yield the best and fastest results.  Like any endeavor, you will get out of it what you put into it. Practicing every day right from the start builds a good habit and sends the message to your child that practicing is a priority. But of course you'll make it a fun, positive bonding time so that your child will want to practice every day!
Do I have to buy an instrument?
It is actually better to rent an instrument at first, especially for children who will continue to grow for many years. Ms. Griffith recommends renting from Cadence Music, and can also assist with correct sizing.
Instrument Requirements
For Lessons with Ms. Griffith
Properly sized instrument and bow, approved by instructor before first lesson (Cadence Music in Fort Myers is a good place to find an instrument)
Suzuki Violin/Viola/Cello/Bass School instruction book & CD (Volume depends on student's level)
I Can Read Music instruction book
Christmas Solos for Beginning Violin (Mel Bay)
Slow Twinkles CD by Darren Tidwell
Daily Practice Calendar
Other materials as needed
How necessary is parent involvement?
Parent participation is very important, especially for the first few years and the younger students, to create a great positive home learning environment! But you don't need to be a violinist yourself, just a good note-taker, an avid learner, and a patient and encouraging home helper.
Sound like a lot of effort! Is it worth it?
The numerous cognitive and emotional benefits of learning to play an instrument are well-documented, and are probably still understated! An appreciation, understanding and love of music is an amazing life-long gift you can give to your child or to yourself!
Violin Instructor
Kara Walker Griffith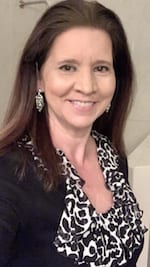 Kara Griffith has been a prominent violin instructor in the area since 1988. She was the founder of the Edison Park Elementary violin program, and also a founder of Gulf Coast Music School, was the former Southwest Florida Symphony Education Director, and currently directs and teaches violin at the Davis School of Music in the Sidney & Berne Davis Art Center, where she is also the Education Director. She has performed with the Naples Philharmonic, The Southwest Florida Symphony, The Venice Symphony, The Sarasota Orchestra, and Nautilus Chamber Music​. She shares her passion for downtown and the historic SBDAC and loves to provide lessons in this beautiful downtown gem, bringing in even more families and young people who appreciate and value the arts in their homes and communities!
Check out our other available lessons: