Learning to play the piano can be a very enjoyable hobby. The benefits of learning to play a musical instrument cannot be overstated! The piano is a common instrument for beginning musicians, and many students choose piano to broaden their education as well as their physical and mental performance capacities. Piano is fun to learn, and with dedication and practice, most students can play several simple songs within a month or two.
What can I learn in piano lessons?
Piano lessons will consist of the standard classical repertoire. Beginning students will use the piano adventures teaching method books. Students who are interested in musicals, pop, and or religious music will have the opportunity to study these works as well. In addition to solo repertoire students will have the opportunity to work on piano duet music. Students will also learn aspects of music theory, sight singing, and ear training will be incorporated into lessons to prepare students for district assessments and to become a well rounded musician.
How long does it take to learn to play piano?
Every student is different, and may learn at a different pace, therefore there is no true answer. With regular practice and the help of our instructors, a basic level of skill can be acquired within a few months. Students may find that they desire lessons in the long term, to continue growing their skill set and improving. Also, piano lessons can be enjoyable!
Can I begin lessons even if I have no musical talent?
Of course! Our instructors can teach beginners to seasoned pianists, from ages 5 and up.
What events will my child participate in?
Students are encouraged to participate in local district events as this provides an opportunity to work towards a specific goal. Students have the option to participate in student day through the Florida Music Teachers association which tests the students at their current level.
Do I need to bring my own instrument?
The Sidney & Berne Davis Art Center will provide the piano for lessons. It would be ideal that students also have a piano or keyboard for practice at home.
*Sabrina's class is full and not currently accepting new students
Piano Instructor
Sabrina Gruber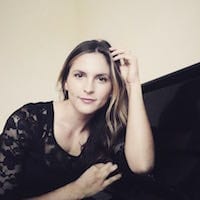 Pianist Sabrina Gruber is a graduate of Florida State University, where she received her Bachelor of Music degree specializing in Music Therapy. She completed her clinical music therapy internship at Hope Hospice, where she worked with children and adults with life threatening illnesses. Sabrina enjoys teaching introductory through early-advanced level pianists. Her passion for instructing piano students with special needs has led to experience with Autism, vision impairments, and down syndrome. In addition, she recently received a grant to work with VSA (Very Special Arts) to visit low-income schools and provide music classes for grades
K-12 students with special needs. A current board member of the Southwest Florida Music Foundation, she is also a member of the Florida Music Teachers and National Music Teachers Associations. Her principal piano teachers include Leonard Mastrogiacomo and Heidi Louise Williams.
Check out our other available lessons: