What will my partner and I learn from private salsa lessons?
Private classes are available with a focus on proper connection, beginner to advanced salsa steps, and authentic and engaging styling. Private classes will ensure that you and your partner can progress at a comfortable pace and build confidence while social dancing. 
Can I take private salsa lessons without a partner?
At this time private salsa lessons are only available for partners. Solo learners are still invited to attend the group classes and dance parties. 
What do we bring to the salsa lesson?
Please bring a bottle of water to stay hydrated. Wear comfortable shoes and flexible clothing. Professional dance shoes are not required but can be worn. Practice shoes without a heel are highly recommended. If learning a dance for a wedding or a specific event please bring the shoes that will be worn to ensure comfort and stability. Do not wear flip flops or sandals. 
Where can we practice our salsa dancing?
Throughout the month, the Sidney and Berne Davis Art Center hosts various Latin nights where you can continue to practice your steps on the dance floor and put your new knowledge on display to music from some of the best local dance DJs! 
What days and times are available for private lessons?
For private lessons please submit the day and time that works best for you and your partner. Submit this information on the questionnaire portion of the registration page. The instructor will reach out to you with open availability. 
Art Instructor
Angela Hicks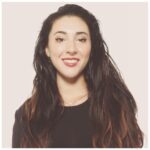 Angela Hicks is a classically trained dance performer and instructor specializing in ballroom and Latin dance. Her Latin training began in 2006 and she eventually competed professionally in both styles within the South Florida region. She also has a background in ballet, jazz, hip-hop and belly dance. For the past fourteen years, her passion for dance has extended into the community, instructing and developing youth dance programs at various performing art schools throughout the area. 
Private Lessons:
2023 Fall Semester – August 21st – December 15th
(No classes held Thanksgiving week Nov. 20-24)
Package includes one lesson per week. Make-up classes are not available.
Minutes/ Tuition 

30 Minutes $640
45 Minutes $800
60 Minutes $1040
2024 Spring Semester – January 8th – May 3rd
(No classes held Spring Break week Nov. 18-22)
Package includes one lesson per week. Make-up classes are not available.
Minutes/ Tuition 

30 Minutes $640
45 Minutes $800
60 Minutes $1040
For More information Please Contact:
Angela Hicks
Sidney & Berne Davis Art Center
email: angelahicks@sbdac.com